Teej Festival-Popular and Holy Festival of Women in Nepal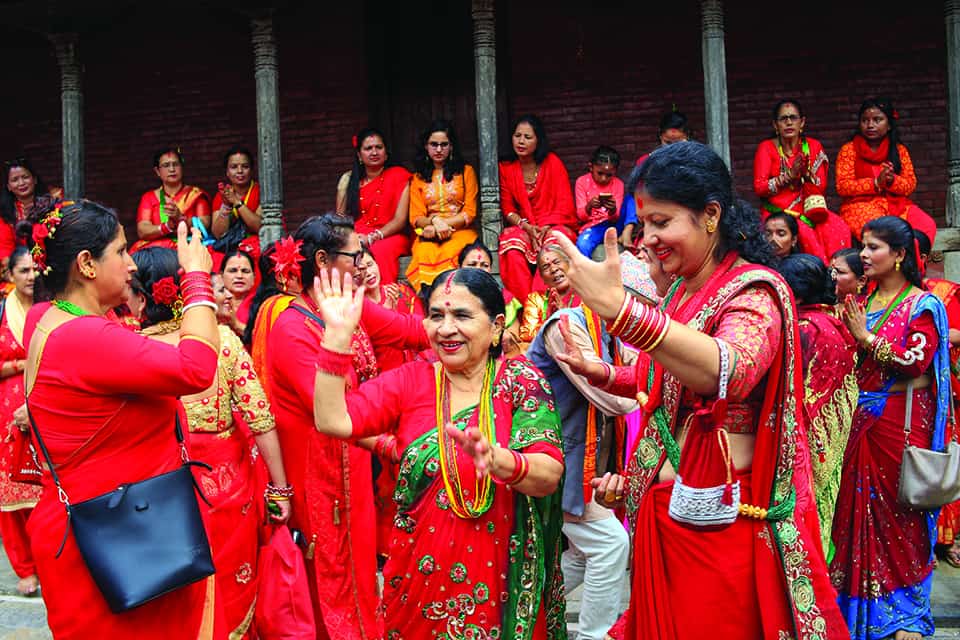 Teej festival is a famous Hindu festival celebrated popularly among women of Nepal across the country. Teej usually comes in the end week of August or in the initial week of September. The festival dedicates mainly to Mata Parvati i.e. the wife of Lord Shiva. According to the rituals of the Teej festival in Nepal married women fast for the whole day without water for the long life and good health of their husbands, while praying for their progress and prosperity.
On the other side, a few unmarried girls fast and worship to get good future husbands. In simple words, both unmarried and married women celebrate the festival of Teej with huge love and full dedication. Besides rituals, women dress them specially in red colored Sarees and wear gold ornaments all over their bodies to celebrate Teej in Nepal.
Teej Celebration Goes on for 3 Days
On the special eve of Teej festival, married daughters visit their parents' homes to celebrate the occasion together. Teej occasion has 3 main days i.e.
On this day, women of family members and nearby areas accumulate in a particular place with beautiful red colored sarees. They dance together, sing various folk songs, and enjoy Dar i.e. special food prepared for the occasion. Normally, women celebrate Dar with close friends and relatives just before the day of the actual fast.
2nd and the main day i.e. Fasting Day and a gap on Chaturthi
The second day of the Teej festival is the main festival, on which women spend their entire day without having any water or food. In Nepal's capital city i.e. Kathmandu, many women visit the famous Pashupatinath temple to worship Lord Shiva, while women of other cities visit the nearby Shiva Temple in their areas. After the day ends, they have some of the fresh fruits and drink crystallized sugar water known as Kada Pani. After this, Chaturthi falls i.e. the gap day between the main fasting day of the Teej festival and Rishi Panchami, on which women wake up in the early morning, take baths and worship Mata Parvati before they have any food.
3rd one as Rishi Panchami
On the last day i.e. Rishi Panchami day of the Teej festival, women in the early morning take a holy bath; use Dattiun steam to clean their teeth and finally, worship by giving valuable offerings, including money and food to seven Rishis belonging to Hindu Pantheon with their pure souls. Women use Bael and Basil leaves to worship. Once they complete with Puja, they have regular food.