Popular Trekking and Tours Packages in Visit Nepal 2020
Nepal is the heaven of Rare and extraordinary mountains, beautifully well-decorated locations outside our imagination with regard to their natural and mystical beauty.
Many naturally well-decorated and designed peaks give you with Golden Sunrise, which is why visitors cannot skip Nepal and call on this Heaven frequently.
Mountain Everest: the world's highest peak, Annapurna Range, Magical Mustang Valley and Adventurous spot trekking are Nepal's most popular attraction.
Nepal is situated in the middle of the giant Himalayan Mountains, small land-locked Nepal has eight of the world's top ten mountains like Mt. Everest – the world`s tallest.
Best known for its abundance of natural beauty; biodiversity; geographical, linguistic and social diversity; and historical and cultural riches, the numbers of visitors are rising radially every day.
For mountaineers, rock climbers and thrill seekers and nature lovers, Nepal is an extremely attractive destination. As well as being an impressive adventure spot, Nepal's local environment, its history, tradition, historical heritage and ever-welcoming Nepalese nature reveals an enormous tourism potential in Nepal.
Nevertheless, Nepal is by no way just super-high mountains. Until you see the snow-capped mountainous peaks you'll see plenty of green rolling hills that are mostly planted for crops–although Nepal's hills may be higher than the mountains in most other countries that can be a blessing of nature to Nepal.
Trekking to the Mount Everest Base Camp (5545m)
There are different regions to explore such as mountain climbing, hiking adventure activities such as paragliding, rock climbing, bungee-jumping, and rafting and many more.
Nepal is rich in culture and heritage, as well. Nepal's unique cultural dimension is also a popular place to explore.
There are numerous ethnic groups who practice their distinct art and beliefs. This dynamic culture and customs are a major feature of the Nepalese community. Cultural diversity in Nepal Boasts, and this vast cultural heritage can be represented in heritages and temples.
Nepal is not just about trekking and exploring the mountains. Nepal features a wide range of plants and animals and some are present only in Nepal.
Nepal has 852 species of birds and bird watching always make Nepal happy and drawn to visit. And the wildlife in lure is one horned rhino, Bengal tiger, snow leopard…
The Government of Nepal is operating rigorously to ensure the best lodging and advance services for a visitor. The Board of Tourism set a target of 2 million tourist arrivals by 2020.
Every year, Nepal hosts 1 million visitors, but the government goes on to attract 2 million tourists.
Through 2020, the government is planning to run two new international airports: Lumbini and Pokhara International Airports along with modern Airbus to provide a significant number of tourists with airline services.
Many attractions in Nepal such as Mount Everest, Annapurna Range, Makalu Region and many more trekking destinations are given special preference along with tour distinguishing.
The travel and trekking package of that area is considered to be the best-selling trekking and tour package mentioned below.
Trek to the Everest Base Camp is the Golden Opportunity for any visitors as people can be honored with the opportunity to be in contact with the top of the world in addition to Amazing and spectacular views of Mt. Everest!
Because of the amazing view of Everest, there is an excess of thousands of tourists in this region, so Trek to the Everest Base Camp Trek package is known to be Nepal's best-selling trekking package and it's also the most challenging.
Everest Base Camp trekking commenced from Kathmandu Domestic Airport to Hillary Airport Lukla. Everest Base Camp rewards you with the opportunity to see a fascinating and highly entertaining view of the Khumbu range of Nepal.
During the journey, you can enjoy a variety of deep valley, an incredibly interesting Sherpa village with its environment and incredible pine forest to reach Namche Bazaar.
Sherpa's special lifestyle: the world's finest climbers are the biggest attraction of trekking to Everest base camp, fascinating and massive view of the mountain range.
Trekking to Everest Base Camp is a unique opportunity to explore the world heritage site; Sagarmatha National Park with an immense amount of flora and fauna.
A chance to see the world's tallest peak is a rare instance in your life that makes you feel happy, appreciative and pleased.
The safest and most appropriate period for trekking Everest is from September to October / November and from March to April / May. If you want to finish the trek in a short time (about 10 days), then you should be physically fit to follow your wish of seeing the worlds of the tallest mountain or roof of the globe.
Trekking to Annapurna Base Camp, cost, Itinerary, Best Time
Annapurna Base Camp Trek is the most famous reasonable trekking path in the Annapurna region of Nepal. Annapurna Base Camp is one of the best trekking choices because it provides a spectacular and mystical view of the mountain range organized in a typical way that makes a circuit.
So, the Annapurna Base Camp Trek package is also included in the list of the best-selling trekking packages in Nepal and is also the most competitive.
The major western peaks of the vast Annapurna Himal, which covers Hiunchuli, Annapurna south, Fang, Annapurna, Gangapurna, Annapurna 3 and Machhauchhare, are organised in such a way that a loop of about 10 miles in diameter is precisely formed.
It leaves the impression that a large and wonderful auditorium is located in the center. Trek gives you a variety of terrain, history and biodiversity.
The trail involves Ghorepani, Poonhill, and Ghandruk amongst which Poonhill is a viewpoint of Annapurna and other mountain peaks and for Golden sunrise.
It is impressive to see the close look of Annapurna range from Poon hill. Gurung community culture and hospitality also welcome you for the next visit during the trip at Ghandruk.
You will reach a maximum height of 4190 m, so you may have altitude sickness. You can take medicine to avoid it and take safety measures.
Suitable trekking moment is from September to November during autumn. It's the best time to go trekking in Nepal. Autumn promises clear blue skies and moderate temperatures. It's calmer during the winter season, and winter gives you the best exposure and clear blue sky.
In addition, it is incredibly exciting to modulate high altitude across trekking routes in Nepal. This trekking experience offers the greatest natural and cultural aspects of the area.
Trip to offer you beautifully situated villages and grazing land next to the natural scenery of the Himalayas is the most thrilling point of this trek. Trip offers the opportunity to view most of the locations efficiently and pretty easily for people of all ages.
Langtang Valley Trek, Cost, Packages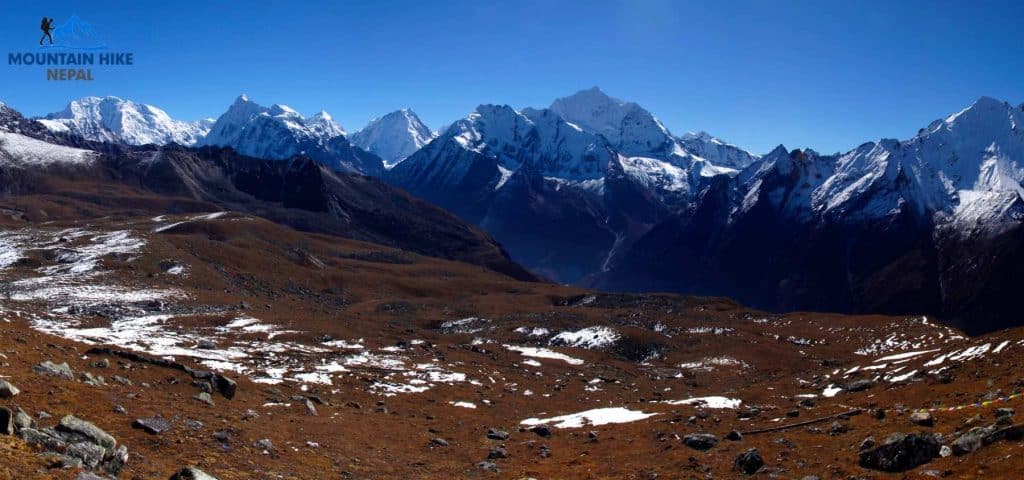 Langtang Valley Trek program also called glaciers trek valley. Langtang valley is the nearest place to get the huge snow-capped mountains and stunning glaciers. Langtang valley is situated just 19 miles north of Kathmandu which is nearby Kathmandu.
Mount Langtang Lirung (7246 m/23766 ft) governs the Langtang valley and delivers pine forest, amazingly beautiful mountain streams, rugged rock and snow-capped peaks, grassy lawns and woodlands.
Langtang is a natural sanctuary north of the Tibet-neighboring Kathmandu valley. Langtang is renowned for its snow-capped mountains, moraine glaciers, pine forests, furious mountain rivers, rocky fields, green pastureland, mild climatic conditions with unique wild animals and peaceful and generous residents.
It consists of snow crinkle, raging high-mountain channels, and vast passes surrounded by enormous mountains covered with snow.
The Langtang Valley Trek program gives you the chance to reach the Glacier Valley of Langtang, where you will be met by flashing prayer flags and a splendid panorama of Langtang Lirung, which defines the whole horizon to the Tibetan frontier.
The Langtang Valley Trek can be the ideal spot to view the wide variety of birds and flowers in Nepal during the Spring season.
Langtang trek also gives you the opportunity to ascend some mild peaks, and if you're interested in investing a couple more days, you can discover some of the wide-spread glacier range.
Nepal World Heritage Package tours
Nepal contains 10 World Heritage Sites from 600 UNESCO World Heritage Sites. And it is noteworthy that seven of these ten World Heritage sites are situated in the Kathmandu Valley itself.
It is unusual that a single city contains seven world heritage sites, and no city in the world has such features, which is why Kathmandu is the most challenging and famous tourist in the world.
Kathmandu is well renowned, very famous, and vibrant in cultural heritage. Such historic sites give you an opportunity to experience the fascinating creative and cultural history of Nepal.
Nepal's heritage site trip starts with a mountain flight from Kathmandu to Sagarmatha National Park, which crosses the entire Himalayan chain, including the Top of the World; Mt. Everest.
Nepal Heritage Site Tour begins by discovering Kathmandu Heritage sites such as Kathmandu Unique Durbar Square, the most popular Hindu temple: Pashupatinath and Buddhist Gompa of Swoyambhunath and Boudhanath.
Most famous Hindu temple; Pashupatinath is the centre of interest for this day as thousands of visitors from various parts of the world visit in one day.
It's very exciting and beautiful the city adorned with the ancient cultures, crafts and sculpture of Patan and Bhaktapur.
Another tourist destination is Chitwan National Park, which is residence to some of the world's extinct wild animals, which is the reason for its selection in UNESCO's World Heritage Sites.
Large wild one-horned rhino is protected and protested in Chitwan Nation Park, drawing thousands of tourists every year. Jungle safari riding an elephant can be a truly exciting and memorable moment in life for everyone.
Through Chitwan you head southwest to Lumbini, the birthplace of Lord Buddha who was born in 563 B.C. in this holy land. Lumbini is the core of interest for Buddhists through different parts of the world.
Upon exploring Lumbini, you can expand our trip to the beautiful lake town and the spectacular mountain panorama Pokhara.
Pokhara is the tourism center of Nepal, which is like a sanctuary, a spot that shocks anyone who visits it. Spending a day in Pokhara and experiencing its authentic and extremely diverse natural beauty, you can return to Kathmandu.
Unforgettable trip to Pokhara 
Magnificent Mountains: Annapurna Ranges mirrored on the luminous waters of a few streams, golden and mystical sunrise seen from the Sarangkot Hilltop, Paragliding over the Sarangkot River, Ancient caves are the biggest attraction of the tourist hub: Pokhara.
Due to such admirable qualities millions of tourist overflows in Pokhara, this is one of the best-selling tour packages in Nepal.
Appreciating the tranquility of a boat trip on the magnificent Phewa Lake and admiring the glorious image of the Himalayas in the perfectly clear waters of Lake Phewa is an exceptional outlook on life that can only be witnessed in a bundle of joy: Pokhara.
The Pokhara Tour Package is the best way to approach the country side, the majestic Himalayas, the River, the Green Hill and the tiny modern village when returning from Kathmandu for your Pokhara Vacation trip.
Pokhara is equipped with many exciting places that make visitors over-excited they are:
Sarangkot
World peace pagoda
Davis fall
Gupteshwor Cave
Mahendra Cave
Bat Cave
International Mountain Museum
Seti Gorge
Vindawasini Temple
Taal Barahi Temple
Phewa Lake
Begnaas Lake
Coming close with numerous excellent sights within a single frame is rare events and such prospects are very few in life but Pokhara provides this wonderful opportunity.
Pokhara is something magical place that, owing to its natural beauty, can be matched with Paradise.
As Pokhara is Nepal's travel hub it is well-facilitated with Modern Hotels and Lodges, and thanks to its well-managed infrastructure, visitors can not encounter any suffering. Pokhara Tour Package is thus best selling Nepal Tour Package.
Jungle Safari Package in Chitwan National Park
For Jungle Safari, Chitwan National Park Tour is mostly requested by being close to dangerous wildlife such as one-horned rhino, crocodile, various birds, tigers, elephants, and many more.
With recreational activities in resorts on the banks of the Rapti River, it will be a wonderful and enjoyable moment.
Chitwan National Park is a tiger-and-elephant rhino house situated in the lowland of the Inner Terai region, a UNESCO World Heritage Site and a sanctuary for 50 flora species and 700 wildlife species.
A large number of domestic and foreign tourists visit it every year who want to see the native wildlife and do forest sports, such as jeep safaris, bird watching, canoeing, learning about Tharu culture and more. Among other national parks in Nepal the park has the best connectivity.
Chitwan promises you a rich biodiversity wilderness which includes multiple types of mammals, birds, reptiles and water animals.
The most significant attraction of this park is the 500 Asian one-horned rhinoceros(One-Horned Rhino) and hundreds of Royal Bengal Tigers residing in the park's thick forests.
A hidden land of tall trees and winding branches, per-historic rhino and lumbering lions, crocodiles, pythons and deer will be discovered: brightly colored birds and, if you're lucky, the magnificent Royal Bengal Tiger.
Other animals like rhesus monkey, grey langur and leopards are sharing home with these. A further exciting and most significant component in the Chitwan experience-the colorful Tharu Culture, the way they live, the culture and traditions and the heart that touches Tharu Dance.
Amazing jungle safari on the back of the elephant forest hiking, jeep riding in the forest near the one-horned rhino diving and swimming with the elephants and much more lets the visitor stay for a longer time.
On the basis of this proof, we may conclude that the Chitwan tour package is considered to be one of the best-selling tour packages.
Cost and Itinerary of Ghorepani Poonhill trek
Golden Sunrise between the various mountain ranges, Dramatic vision of the beautiful mountains is just amazing, and a chance to enjoy such a mystical scene is only accessible from the peak of Poonhill with a cup of hot drinks.
Ghorepani Poon Hill trek is an excellent and perhaps most definitely the best short hike in the Himalayas. It is best suited for people of all ages, especially good for families with children, this trek can be 4 or 5 days in duration and still reaches the core of Annapurna.
Ghorepani Poon hill trek package offers an opportunity to see the Annapurna region and many more locations such as Dhaulagiri, Nilgiri, Tukche, Lamjung Himal.
Summiting Poon Hill to see the Golden Sunrise over these beautiful snow-covered peaks is something to be cherished for.
Ghorepani Poon hill trek covers hiking through the colorful village of Annapurna, which is always visible. After a short and pleasant trek to the Poon Hill at the viewpoint, you'll feel something remarkable during the sunrise and sunset view of the Mountains in the Annapurna region.
The icon of breathing stunning views of the mountains of Annapurna, Hiunchuli, Nilgiri, Machhapuchhre Himal and Mordi Himal. The warmth provided by locals is incredible and wonderful.
You'll have a great time going through the lash wood, spectacular views of the mountains and dispersed, well settled Magar villages.
There's a wonderful experience going up and down on the common stone stairs of the village of Ulleri. There is a perfect introduction to the Himalayas in a short span of time.
At the end of the day, accommodation is excellent and the hospitality of locals is unforgettable, so trekking to Ghorapni PoonHill is most beneficial. Due to such a wide range of beautiful views and breathtaking scenery, Poon Hill is known to be the best selling trekking in Nepal.
In particular, all of these trekking and tour packages have a particular focus during ' in 2021 ' so they are well maintained with enhanced amenities so that these attractions are the best in the world trekking and tour packages.