Ghorepani Poonhill Trek- The Best Short Trek in Annapurna Region.
The Ghorepani Poon Hill Trek is your first alternative when you visit Nepal and you are going to do what you're expected to do in Nepal: Trekking. What's so cool about the Ghorepani Poon Hill Trek is that it's really a trek that literally everyone can do. Poon Hill Trek is one of Nepal's most popular hiking trails. It is famous for its spectacular place, enchanting cultures, Himalayan peaks and a green rice terrace.
It's the location every nature lover wishes to visit. Poon Hill's marvel has always fascinated people around the world. The legendary peaks like Annapurna I (8,097) and Dhaulagiri (8,167 m) are truly an eye-catching location.
Also known as Annapurna Poon Hill Sunrise Hike, it captivates you with its stunning Himalayan sunrise. When the first sunshine emitts and hits the White Mountain, the scenery is something beautiful to experience and for someone, Poon Hill Trekking is literally a search for peace and tranquility, and for others, it's all about realizing an adventure dream.
Poon Hill is still a 3,210-meter hill and it's by no means a walk in the field, but compared to some other Nepal treks, it's really doable.
Is Ghorepani Poon Hill Trek and Annapurna Sunrise Trek alike?
You want to walk up to Poon Hill and see the iconic sunrise, but you're unsure whether to choose the Poon Hill Trek or the Annapurna Sunrise Trek. Don't worry. They're the same. There are different names for this classic Annapurna trekking introduction, and Poon Hill Trek and Annapurna Sunrise Trek are widely used. Another name is the Annapurna Sunrise Trek. Trekking operators, too, mix the two together. You thought, Ghorepani Poon Hill Sunrise trek. Whatever trek you choose, make sure you see the most stunning view of your life throughout this trek.
What is the difficulty of the Ghorepani Poon Hill Trek?
The Poon Hill Trek is regarded as homage to the great trekking discoveries of the Annapurna region. It is one of Nepal's easiest, if not most simple, trek. The Poon Hill Trek is considered family friendly and, unlike on other treks in Nepal, if you wish, you can do this trek in a short time.
A physically stable trekker can do it without too much difficulty. If you are traveling via a trekking company, please inform your special health condition so they can tailor the trekking route accordingly. To add to that, participate in physical exercise such as running, cycling, swimming and weight training to develop some physical stamina and skills.
Is Tour Guided Needed for the Ghorepani Poon Hill Trek?
If you're inexperienced trekker, you need a guided tour to the Ghorepani Poon Hill Trek. An experienced guide has comprehensive local knowledge – all the road, shortcuts, perspectives, obstacles, and more. Plus, they can recognise your body weakness and not allow you to continue until your body is prepared mentally.
What is the best trekking season for the Poon Hill Trek in Nepal?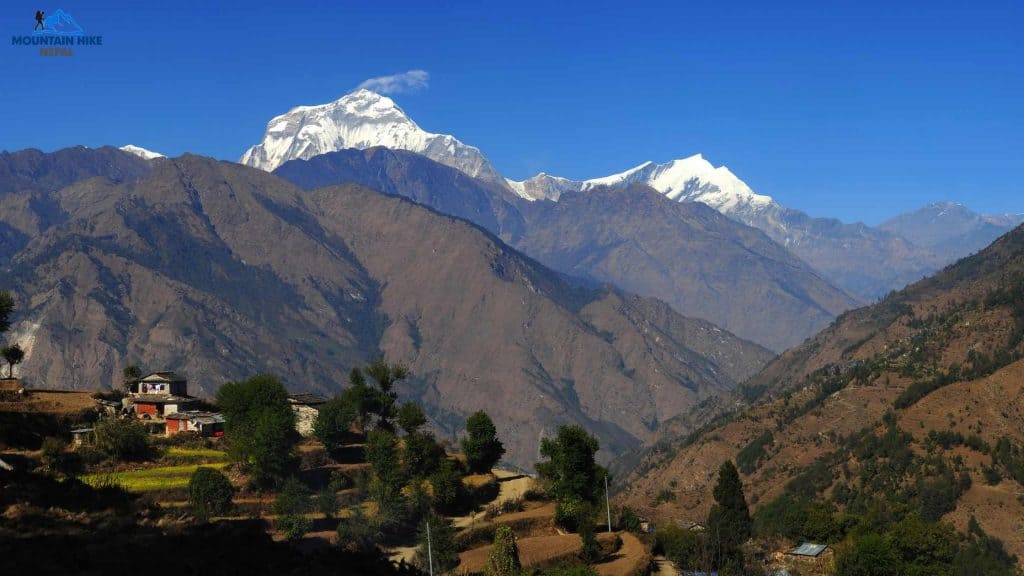 A Hill Trek can be performed throughout the year; however, autumn (September-November) and spring (March-May) are regarded as the best time for trekking. The weather is bright and mild with outstanding views around.. After all, this trek doesn't reach an altitude of just over 3,000 meters.
What is the height of Poon Hill and the risks of Altitude Sickness?
Poon Hill is 3200 meters high. Since Poon hill sits at lower altitude, Altitude Mountain Sickness is not at risk. The daily elevation is max. 500 meters. When trekking in Nepal, you should always inform yourself about Altitude Sickness risks. Altitude sickness is very self-explanatory. Like Acute Mountain Sickness (AMS) or simply Mountain Sickness, it is the health impact that kicks in when related to low oxygen levels at high altitude.
The positive thing about the Poon Hill Trek is that it is at a lower height than some other main hikes such as the Everest Base Camp Trek and the Annapurna Circuit. Consequently, there is no chance of altitude sickness.
How to reach Poon hill?
Pokhara is the gateway to the area of Annapurna. Two transport modes are available from Kathmandu to Pokhara. You're going to Pokhara for 20minutes by flight from Kathmandu to Pokhara. The second way is to catch a bus to Pokhara from Kathmandu. Follow the Pokhara Highway for 5 hours. Take 40 minutes drive to Nayapul from Pokhara. The road continues along the Modi River to Tirkhedhunga. Take the staircase trail to the top of Nangethati Hill via Ulleri and Banthanti. Go down to Ghorepani from Nangethati and ascend to the hill Poon. From hill Poon, go down to Ghandruk, and then go back to Nayapul.
Why hike the Ghorepani Poon Hill Trek in the Annapurna Region?
There is no single trek in Nepal that will give you the experience of the Himalayas and the best sunrises in less time, for less money. Often the Poon Hill Trek is hiked simply to warm up for other great Nepal treks. For instance, it is a good warm-up to go trekking in the Mount Everest region and other Adventure hiking region.
One may name numerous reasons for hiking or trekking up Poon Hill, but the most prominent of these is the iconic sunrise for which this trek is popular. You could also witness one of the most stunning sunrises you could ever have seen. The walk or trek from Ghorepani up the hill is completely worth it when you consider getting to see in the morning glory in Dhaulagiri and Annapurna.
Which Is A Good Ghorepani Poon Hill Trek Itinerary?
If you want to do the Ghorepani Poon Hill Trek right way, try taking as much time as you can. As transfers from Kathmandu to Pokhara are usually included, you may want to spend time in Pokhara. The city is just too beautiful to miss. You're going to ride a little bit to get there, so you should stretch your leg a little as well. Check our 6-day Ghorepani Poonhill Trek itinerary will give you the best experience.