Complete information about Everest Base Camp Trek in Nepal
No need to introduce Everest to the world. All know the mighty Everest and its position. There is a sea of trekkers dreaming to touch the world's highest mountain lap.
Many ask how to enter one of Earth's magnificent spots. But no worries, we're here. We've jutted all details relevant to Everest Base Camp Trek.
This route is the world's most awaited trekking route. Many interested trekkers have concerns about Everest Base Camp trekking. Food, lodgings, shower, phone, electricity are some few items trekkers want to hear about.
But don't worry, because we're providing you with complete information about Everest Base Camp Trek in Nepal here below:
Accommodation in Everest Base Camp Trek:
Everest is one of the world's highest locations. The home of the world's highest peak- Mt. Everest (8848m) is countless trekkers' dream trekking routes. Many trekkers worldwide choose the trail.
Since many travelers choose the base camp of the world's highest peak, there is some kind of lodging facilities on the route. And it's just an alert to you because the variety of services you will encounter on the trail is commendable.
As the route is a famous tourist path, you may also find many shops up to Namche. For example cafes, restaurants, grocery shops, bars, bakery, trekking gear shops, exchange booths and many more.
In Nepal's Himalayas, the hotel has various definitions and understandings. Like the concept of hotel- an establishment providing travelers and visitors lodging, meals, and other services. This means a place to eat in the Himalayas, and you can see plenty of lodges and tea houses with the hotel name attached. Lodging requires sleeping.
It will daunt to explore Everest's wide variety of categorical hotels. In the Everest region, from basic rooms with two single beds to luxurious rooms furnished with everything you need. Everest luxury lodges will delight you. Everest region's luxurious lodge rooms are fitted with comfortable beds and furniture while keeping customer satisfaction in mind.
For a start, sun-kissed rooms, attached toilet bathrooms, and running waters. And we must say, to have these facilities in the mountain is a luxury that cannot compare with any other hotels in the world. But we confine this luxury up to Namche Bazaar.
Rooms
You can find a variety of a room while trekking through the trail of Everest Base Camp. But please be mindful that, the styles of accommodation change as you up. The more the elevation, the better the lodging gets.
Tea house Rooms:
From Lukla to Gorakshep and back, at all the stops, you can find tea house accommodations.
What to expect:
They will provide There basic two-bed accommodation and a table in a room. They fit the bed with a mattress, bed sheet, pillow, and blanket. After Namche, there will be no electrical outlets are available in rooms.
Rooms at Luxury Lodges:
Luxury lodges like Yeti Mountain Home and Everest Summit lodges are on the Everest track. Lukla, Phakding, Namche, Mende, Monjo, Kongde, Thame and Tasingha branch these lodges. Not all the above locations are set for overnight trekking to Everest Base Camp.
What to expect:
Varieties of balcony rooms, private bathroom with 24 hours running hot water, beds with convenient mattresses and electric mattress
Toilet and Hot Shower
We can find basic bathroom with squat down a toilet or toilet in modern style in guest houses. In some areas, chilly running water will be available in the bathroom, but there will be a large bucket of water in other places.
On the other side, it connects bathrooms with rooms in luxury hotels and will be available 24 hrs water flowing hot and cold.
And as with the hot shower, if you pay the extra fee you can have a hot shower in tea houses. It has cost about USD 4 per shower for a hot shower in a teahouse. The price varies according to the location and elevation you are at.
Don't be surprised if you paid for the hot shower and a cold shower is there. You must take a shower in your tea house by pouring water onto yourself. And as soon as you get used to a new bathing style your water gets chilly. So, tip to get a hot shower when you're in the mountains is to learn to take a quick shower.
You can have a hot bath in a Western-styled toilet in luxurious Everest lodges.
Electricity:
Likewise, up to Namche, electricity is no problem with good tea-houses and better facilities. We can receive electricity wherever we want to rest. Sure, they will force you to pay some fees but you will still be able to use enough electricity.
Please notice that Nepal has a 200V/240 V electric voltage and provides the 50 Megahertz current. So carry in the adapter that has 50 Megahertz efficiency.
And there will be solar panels above Namche, from which they supply energy. The power socket is located in circular two pin form plugs. Hence it is suggested to bring a universal travel adapter.
Meals:
Many foods, if found on the Everest trek. Namche the busier market has many shops. For the section on meals, we have their own segment from breakfast, lunch, and dinner. Also, both categorical vegetarian, non-vegetarian and vegan meals are listed. If you want gluten-free meals, it will also be planned for you. According to the tea houses menu, you can select your own selection of foods based on your dietary preferences
Veg Food over Non-Veg Food,Why?
We suggest that you have vegetable food over non-vegetable food while on a trek. Yes, it's your choice, and you also need protein in your body. However, it is not advised to eat non-vegetable food at high elevations.
It is difficult to process a large meal full of protein at high elevations. Because our digestive system will be under pressure and is struggling to adapt to the natural environment where air pressure is so low
Internet and Network:
The simplest way to get internet and network services in Nepal is to get a SIM card. There are a number of telecommunications companies in Nepal. The one that works more successfully in the Everest region is the Ncell SIM card.
The company has built eight 3G stations along the Everest trail.
And by having various data packs, consumers can use the Internet service at a fair price at Everest Trek
WIFI:
Besides mobile phone and data packs, Wi-Fi is also available in the Everest route. The tea houses you're staying will buy Wi-Fi. Wi-Fi's signal and rates change with altitude. Price varies from $2-12 per hour. You can get good Wi-Fi in some areas, while some bad. It depends on the location. Locations providing Wi-Fi are Lukla, Phakding, Namche Bazaar, Khumjung, Tengboche, Dingboche, Gorakshep, Pheriche.
Water:
Most ways to get water on the trip, you can buy tea house bottled water. Likewise, the tea house can also sell hot water and fill your thermos. You can fill your water bottle from the nearby tap or spring and use a water purification tablet to purify it.
It will cost USD 2-5 for a liter of a water bottle.
Travel Insurance: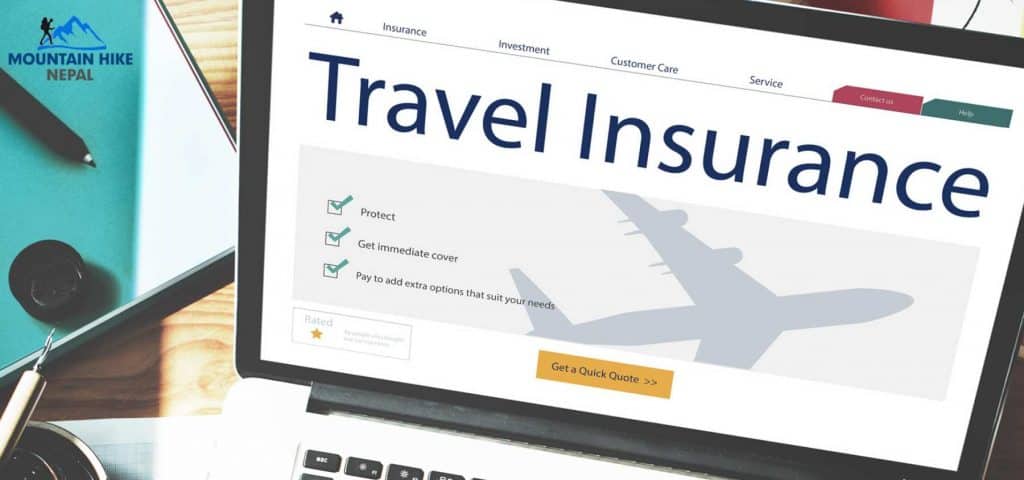 Visiting Everest is no joke. People face problems all the time while on the trek. And it's really necessary not to be knowingly harmed due to unexpected travel insurance incidents while traveling abroad. For the Everest Base Camp hike, your travel policy will cover 6000 meters altitude and emergency helicopter evacuation. Here is the link to buy insurance for Everest base camp trekking insurance- https://www.jsinsurance.co.uk/travel_insurance/trekking-everest-base-camp-travel-insurance.html
Health and Rescue
Altitude Sickness:
Altitude sickness is called mountain sickness. It happens when you immediately take a higher altitude. We advise trekkers to travel slowly.
As you walk very far in higher areas, air pressure declines and oxygen intake also decreases. Altitude sickness usually happens among people who aren't used to a higher altitude air pressure and can't adapt to the natural climate.
There are 3 types of altitude sickness in the mountain and they are:
Acute Mountain Sickness (AMS): You'll have minor symptoms including body pain, nausea, headache, and lightheadedness in this case. It's normal and avoidable.
High altitude Pulmonary Edema (HAPE): It is worse than the one above since fluid is present in the lungs in this situation.
High altitude cerebral Edema (HACE): Such altitude sickness is more severe and life-threatening. There's fluid in the brain in this form. Therefore, it must be cautious.
How to take care if someone has altitude sickness?
If you have moderate altitude sickness, you can overcome it by drinking plenty of water. Also, if you haven't hiked high place, then we recommend you wait until you're healed, but if you've already hit impressive height, then we recommend you hike down.
But if you suffer HAPE and HACE, we require emergency evacuation. There's no point sitting there longer. Such conditions are one of the serious types, so getting urgent care should be both the patient's top priority and the guide.
You should call the travel insurance provider for an emergency helicopter evacuation. Once rescued, we will take you care of you at Kathmandu hospital.
Tipping Guidance for staffs:
Generally, tipping isn't compulsory and depends solely on you. If you're happy with the service, though, you can willingly tip them depending on your budget.
All issues mentioned above are often asked by the interested trekkers worldwide. The details we received may not be relevant to your experiences. Nonetheless, this article's primary aim is to send out a rough idea about the services you can get and at what cost. Considering the continuously changing market, the prices listed above should not very much.