Are you planning to Trek in Monsoon season Nepal? Everest, Annapurna or Upper Mustang Trek
Since Nepal is Opening for Trekking and tours from August 17, 2020, after nearly 4 months of national lockdown that was imposed in order to control the spread of the coronavirus disease (COVID – 19). Here we suggest you Pick up the right trekking for you.
Quick Facts about Monsoon Season
The monsoon season lies between mid-June and early September.
The average temperature around this time is 71 degrees Fahrenheit (22 degree Celsius), and it keeps going down as you start gaining altitude.
The average rainfall is between 135 – 325 mm, with July being the wettest month.
Rains usually occur during the evening and night, so you can expect anything between 7 to 11 hours of sunshine, depending on your location.
Nepal, known as the land of the Himalayas, is popular with trekking through a country of geographical and cultural diversity that is ideal for a wide range of experiences apart from trekking, adventure sports, hiking, jungle safari, rafting, paragliding, mountain flight, heli flight and much more. But the narrow alleys weaved through dense forests, deep gorges, terraced fields, yak pastures, remote villages were the most goggled trekking trails for beginners to adventurers, expert trekkers around the world who want to immerse themselves in the mountain scenery, rustic lifestyle, and country setting blending with friendly and hospitable locals.
However, most of Nepal's trekking is done during the spring and autumn seasons, which are chosen to take as peak tourist season for trekking where the most best trekking trails Everest, Annapurna and Langtang are filled up with tourists creating the carnival vibe. Also, finding accommodation during the peak season will be difficult if the trek is not well prepared. Besides the problem of accommodation adjustment, the main point of view of the trekking destination is also another noticeable issue of trekking during peak season
Whereas the autumn may have the clearest skies, trekking during the monsoon (from mid-June to July, August to early September) has its own benefits. Some treks should be avoided, but visiting Nepal is a wonderful time for the some areas: trails are less populated, villages are full of life and valleys are in bloom.
Looking to start around mid-June, peaking in July and August, and winding down early September, the monsoon brings rain, humidity, and temperature rise across most of Nepal. Real — the views of the mountains are always clouded, temperatures get hot, it rains daily and yes, and there are leeches. But it's still a great time to go trekking and here's our best tip.
When starting your trek, drive in as far as possible to get behind the mountains
Ending your trek, allow for a two-day buffer before your departure flight
For lower, warmer elevations, an umbrella works great!
For higher elevations, a breathable waterproof shell is needed
Start your day early as it often it only rains in the afternoon
If it rained the night before, the morning will likely be clear for fantastic views
Except in monsoon season
Expect 3-4 hours of rain per day, usually about the same day. When trekking in the woods and lower altitudes, there is sometimes a build-up of thick fog and clouds, often breaking up the views.
Use of Transportation in monsoon season
During the monsoon, the greatest difficulty of trekking is getting to the trek starts, as low visibility can prolong your flights and roads can get too muddy (or worse, blocked by a landslide). Even, your flight is likely to get out and you only need to check in advance to make sure the roads are clear.
Also, it's best to postpone your transportation plans and allow yourself a healthy buffer to prevent any problems. Flights are always delayed and landslides along Nepal's main highways can obstruct road transport.
Planning a trek in Nepal this summer?
Nepal has so many treks that feel especially incredible during the monsoon season. Most of these treks are in the rain shadow regions, places where these sensational mountains block rain-producing clouds. Simply put, while the rest of the land rains, these poor souls seem to miss out. It's not to say there'll be no rain in these places, but it'll be much lighter. Here are some of the perfect monsoon treks to try this monsoon, in no specific order:
The Ghorepani trek can be muddy with low visibility mostly during monsoon period (July & August), but the routes are wide, well stepped and fairly free of leeches. Early and late monsoon can be a fine opportunity for this trek, as you will beat the crowds and still see the clouds clear for spectacular views along the way.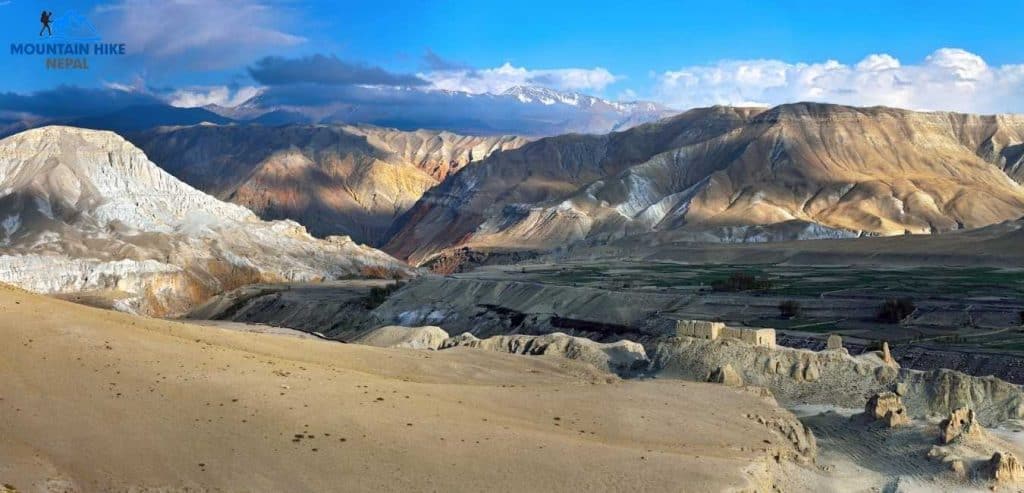 Under the rain-shadow zone, the upper parts of the Annapurna Circuit, towards Manang and Thorong La Pass, and into Muktinath, fall. At this time, the views of Annapurna Mountain and Muktinath are simply stunning, and Manang 's agricultural fields will also be lush and admirably green, due to all that rainfall. The routes in this circuit are well-marked, so you'll never have to worry about getting lost and these delicious-looking Nepali tea houses and friendly locals will make sure you have plenty of rest, food and cultural exchange all around you.
In Lower Mustang, there are a number of trekking routes and day hikes you can do, like this twelve-day itinerary. You will need to take a couple of flights to reach this area from Kathmandu so be sure to set up in some buffer time in case of flight delays. You can also drive to Jomsom but during the July and August, when the monsoon is worst, road conditions are often not nice. All this means you just need to be flexible with your time. If you are on a tight timetable, then this trek is not for you.
There are several great treks in the lower Everest region that can be done during the monsoon. Flights to and from Lukla can be much delayed, but you're in the area, it's pretty pleasant between showers. For example, you can often find great views even in July. Depending on how many days you have, check out this itinerary for best short treks in Everest region.
Annapurna circle trek the most famous Nepal trekking spots. Indeed, the Annapurna region is on level with the Everest region itself in terms of trekking popularity. From Pokhara, It is easily accessible by road or air. The Annapurna circle Trek is also one of the iconic trekking experiences. Significant parts of the Annapurna Circle Trek are in the monsoon curtain, making it suitable for Nepal monsoon treks. The upper sections of the hike, including Manang and the Thorong La Mountain Pass, are dry and arid with strong winds.
The Journey to Everest Base Camp is one of the world's most populated routes, but the crowds continue to reduce somewhat during the monsoons. Although there will be some rain at the start of the trek as you climb to higher altitudes, the rains will decrease, providing some of the world's most beautiful landscapes. The path is one of the most scenic in the world — the view from Kala Patthar of the world's highest mountain is worth it all. In this path, the beautiful Namche Bazaar, Tengboche Monastery and Khumbu Glacier awaiting you